Brothersoft review

Many of us are used to dealing with huge amounts of information and thousands of files daily, what makes it absolutely necessary to succeed in managing files and folders efficiently. Let me tell you that I have come across a really powerful solution that has turned my file and folder management into a piece of cake!
An All-included Package
Three things are totally desirable when acquiring a new piece of software: being cheap, reliable and, if possible, including more than a single function. And Directory Report takes in all these three features: it is not at all expensive, it definitely meets functionality expectations and, what makes it really cost-effective, it combines many popular features into one program, thus saving users'money.
If you add to this a familiar friendly-user interface you have an ideal package to purchase.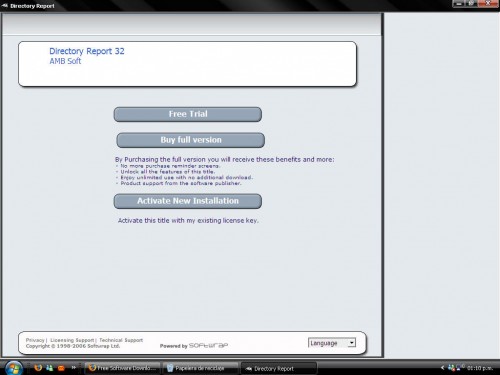 What is Directory Report about?
Directory Report is a program that allows you to create a list of the contents of your hard disk, or a single directory or a structure on them. You can generate this list in a text file, Excel or HTML, or print it directly on paper. Its Full Unicode support allows you to view and print reports with files/directories that have names with international characters, a useful feature, isn't it?
Directory Report can print attributes for the following types DLL/EXE, AVI, MP3, MSI, WAV and regular attributes. Since by default all attributes are printed, it is recommended that you choose which attributes you want before printing/saving to a file. But do not worry if you are absentminded, the program will give you hints so as to help you remembering this.
But that is not all. This software incorporates other really useful features for you to take advantage of. For instance, you will be able to include information on the files properties on the printed list, calculating the cyclical redundancy (CRC) of each file or the version of each EXE and DLL file.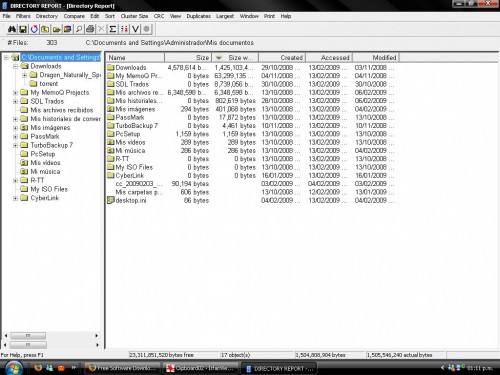 Its ability to rename files in batch by using diverse configuration options makes of it an excellent utility to search duplicate files by name, size, CRC, or comparing byte by byte. The multithreaded Find and replace duplicate files search function makes of this program the fastest duplicate file finder program available in the market. You can even speed up finding duplicates based on CRC by preloading CRCs from a file.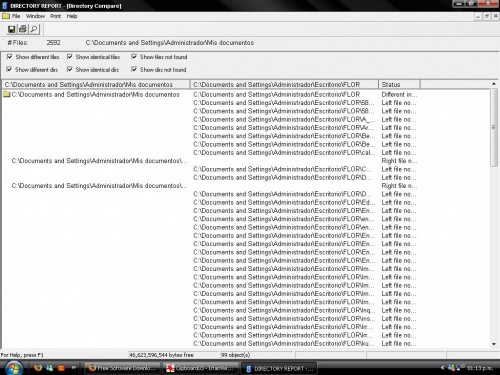 What is Directory Report like?
Directory Report will look truly familiar to you, since it looks just like the MS Explorer, i.e. its really friendly interface presents a tree control on the left side of your screen and a list of file attributes on the right.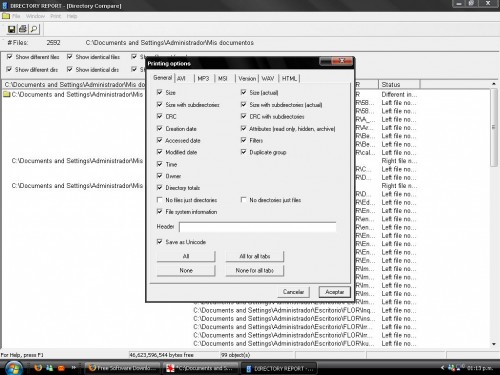 Your Opinion Matters
We could say that Directory Report is a popular application that allows simplifying the file and folder management and reporting features. But its being popular not only means that it is widely used, but also that many of the new features it acquires in every new revision comes from users' suggestions.
Something great: while this program has been revised and improved 32 times, there is only one version of Directory Report; thus, you will never get confused on whether to buy a standard, professional or enterprise version. A really time- saving feature, indeed!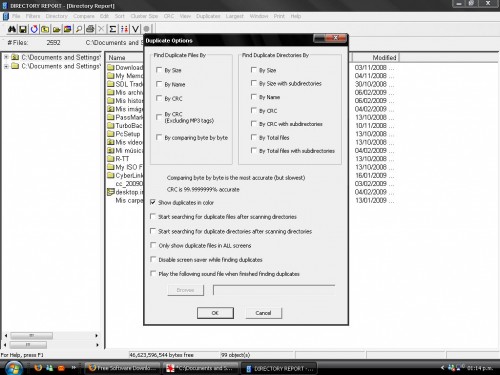 To sum up
Directory Report is a truly flexible and handy application that will make of your usual file and folder management tasks something really easy and even enjoyable. I suggest you trying it by downloading its free 10-day fully functional version. Worthy a try, don't you think so?