Tucows Review
Directory Report received the highest rating of 5 Cows!!!

Most shareware sites give their highest rating so that they can get advertising.
Tucows is the most honest and most critical shareware site on the web.
Directory Report, by AMB Software is a neat utility that helps you to work with files. The program has multiple functions like renaming files, finding duplicates, printing out directory listings, and more. Just a little history here. Under DOS the areas that hold files were called directories and today they are called folders. The program is easy-to-use and has an intuitive user interface. To me that makes it perfect for both new and experienced users. I was impressed with how fast and efficient the program was.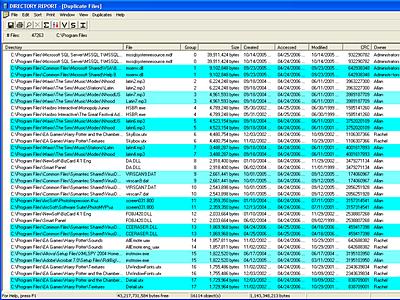 You can use filters so your directory listing have exactly the files you're looking for. For example, in testing it out here I did one search that was just for JPG graphic files. Directory Report gave me a listing of all the JPG files it could find. Nicely done. If you want you can also print listings to a printer or you can also save the information as a file. File formats supported include HTML, XML, text, and more. The program can print out the information contained in files, like the properties of a MP3 or an EXE file. It can also tell you if two files are exactly the same and if not exactly where they differ. Slick.
Directory Report is a powerful tool that lets you rename files in a batch instead of one by one. That's a cool feature and a very powerful one. For example, I used it to rename all of the pictures from our vacation. Directory Report is full-featured and it's really like getting multiple products in one. You can rename files, compare file, print directories, and lots, lots more. Give a try, I recommend it!